---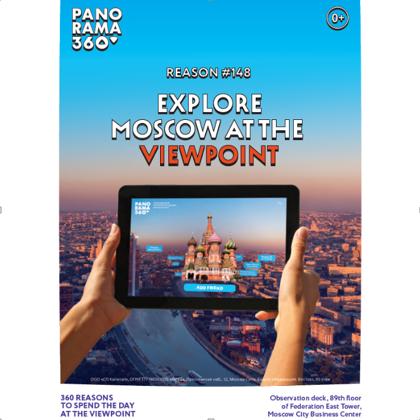 Observation deck PANORAMA360/Смотровая площадка PANORAMA360
10% discount for visiting the observation deck PANORAMA360
The view of Moscow atop the Federation Tower, its main skyscraper, is an unforgettable and enchanting experience. To visitors at PANORAMA360 observation deck, Moscow reveals all its splendor.Take this opportunity to appreciate the beauty of Moscow from the 89th floor of the Federation Tower in Moscow City. This height is an officially registered record of Russia.
The Federation Tower is located in the citys center, only 4 km from the Kremlin. You can see the entire Moscow from the best point of view in 360 degrees. The concept of the observation deck had been integrated into the towers project already at the design stage, and the best view was an essential condition. The skyscraper has been designed to survive a collision with an aircraft while preserving its own structure and balance.
The deck is accessible for visitors with disabilities. Visitors arrive at this height in speedy and reliable elevators in less than a minute. Super-strong armored panoramic windows are able to withstand formidable loads. Some of our state-of-the-art entertainment areas are unique in the entire world. For instance, the ice-cream factory on the 89th floor of the skyscraper and the augmented reality interactive guide. Apart from that, a projection show will be demonstrated on such height for the first time ever.
The Federation Tower is within walking distance from 3 subway stations and the Moscow Central Circle. A bus station and a berth are located nearby. Guests arriving by car can take advantage of the vast underground parking of the Afimall City retail and entertainment center.
Оцените красоту Москвы с 89-го этажа башни «Федерация» Москва-Сити. PANORAMA360 занесена в книгу рекордов России как самая высокая смотровая площадка, а также является полноправным членом Всемирной Федерации Высотных Башен!
Башня «Федерация» расположена в центре города, в 4 км от Кремля. Отсюда можно увидеть всю Москву на 360 градусов вокруг с самого лучшего ракурса.
Идея смотровой площадки была заложена еще на этапе проектирования башни, лучший обзор изначально планировался как обязательное условие проекта. Здание небоскреба сконструировано так, что выдержит столкновение с самолетом, при этом не разрушится и не упадет. Площадка доступна для посещения лицами с ограниченными возможностями. Также на площадке имеются современные развлекательные зоны, некоторые из которых абсолютно уникальны и не имеют аналогов в мире, как, например, фабрика мороженого на 89 этаже небоскреба и интерактивный гид с функцией дополненной реальности.
Башня «Федерация» находится в шаговой доступности от 3 станций метро и от МЦК. Рядом есть автобусная остановка и причал. Для автомобилистов предусмотрена большая подземная парковка в ТРЦ «Афимолл Сити».
---